The term "coronavirus" emerged last year in late December and is now being considered as a pandemic, showing no signs of stopping. With over 13,000 new cases rising on a daily basis, coronavirus also known as COVID-19 has brought the entire world to its knees. The global stock markets are bound to crash and economies especially; the ones who struggle to sustain themselves are expected to collapse any moment. With major countries going on lockdowns, businesses will face a drop in sales and will be required to rely on existing resources with no hopes for getting new ones for a while. Coronavirus is bad news for businesses that are being run online. Digital marketers are seriously going to get affected! 
With no vaccines being discovered yet, no one knows how long this pandemic is going to last for or how many people will be put to the ground. Since my ad agency works with hundreds of companies in all major sectors and we have 7 offices around the world, the impacts of this entire crisis are long term and can be easily analyzed. But before we go into these details I want every marketer out there to follow the tips given below expressing some matter of concern with what they shouldn't be doing at all.
1)
Don't exploit the situation
Marketers all over the world are taking advantage of the situation and turning the tables around for their own benefit. This means marketers all across the globe are selling masks, sanitizers, toilet rolls and other basic necessities for higher prices. You can easily go on eBay and check for yourself, the price of a $3 mask would be for 10-50x more the price. This is a shameful thing to do in my opinion. 
This goes against our marketing norms. I recommend marketers to stop becoming crooks and exploiting the entire coronavirus situation to make quick bucks. It's better to invest your time and energy on something that is of value. This is what true digital marketing meaning is, to be honest in conducting business online.
[penci_related_posts title="You Might Be Interested In" number="4″ style="grid" align="none" displayby="recent_posts" orderby="random"]
So now that we got that out of the way, what does marketing means for digital marketers in this global health crisis?
2) Businesses are going to have a Hard Time
The virus right now is in its full swing. Being spread to various parts of the world such as Italy, South Korea, the UK, Iran and Pakistan, the numbers keep on surging. Even if it slows down shortly, the businesses are still going to suffer for a while to make up for the losses. Things are expected to go back to normal.
For instance, by the courtesy of an article written by Bloomberg, the virus let alone in China caused a 20.5% drop in retail sales and the unemployment rate jumped to 6.2% in February. Since major parts of the country staying on lockdown, people have lost their jobs as businesses don't have much money to facilitate them through giving out salaries.
Stores like Apple were shut down as well as an attempt to reduce the spread but shutting down stores means fewer sales and less profit. The travel industry has faced devastating impacts. The virus is expected to lose them 820 billion dollars. Virgin Atlantic just asked their staff to take an 8-week unpaid leave. The first round of layoffs have already started with the ports being empty. Coronavirus for digital marketers means loss of traffic and conversions. It's estimated that in total COVID-19 will cost the global economy $2.7 trillion.
3) Organic traffic is Slumping in most Industries:
As I mentioned earlier, I work with hundreds of clients from different parts of the world through my agency and we tend to store tons of data all thanks to Ubersuggest. But before I dive into discussing data, I want to ensure you I haven't included data from sites that acquire less than 5000 visitors a month. Also, data on every specific restaurant is not considered such as local restaurants striking the biggest marketing budgets.
Now, from an SEO standpoint, last week we saw huge drops in organic traffic for most industries we are tracking. Just look at the chart below (compares last week to the previous week).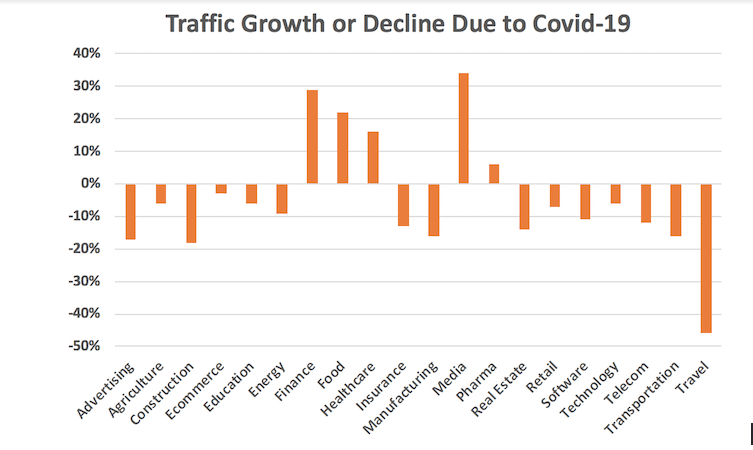 For news industries and financial space, the traffic has skyrocketed but unfortunately for the travel industry, the traffic has dropped to significant levels. The traffic was crazy last month. For sites selling baby products especially wipes and tissues, you would see a nice bump in traffic. But if you're selling traveling packages or discount deals on restaurants then you would see a drop in traffic. B2B marketing meaning, in short, has taken a completely different approach now. The definition of gaining traffic for a website with all aspects which was the same for every industry is different now.
4) Conversions Also Sunked in Most Industries
Speaking of conversions, they didn't do well either. Most drops were observed in the financial sector. Have a look at the chart below (comparing last week to the previous week):
The only industry that leveraged from this pandemic was the news industry that charged people to read specific content; it also gave a whole new definition to target marketing meaning somehow. For instance, people were only allowed to read a short amount of content from Washington Post until a message popped up that looked like this: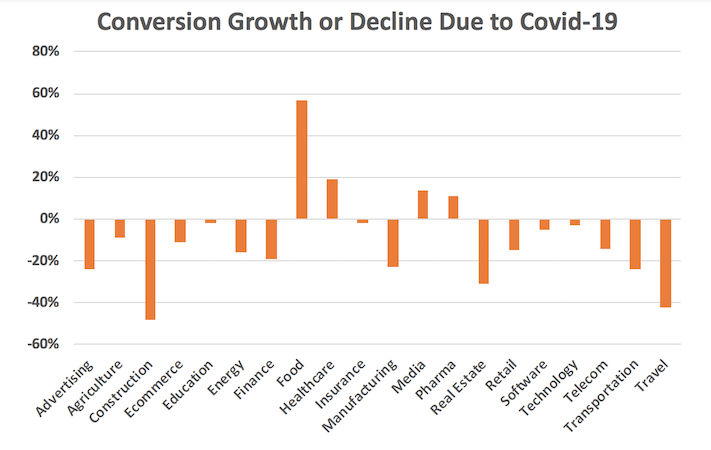 The only industry that leveraged from this pandemic was the news industry that charged people to read specific content; it also gave a whole new definition to target marketing meaning somehow. For instance, people were only allowed to read a short amount of content from Washington Post until a message popped up that looked like this:
Nobody wants to miss out on any corona virus related news; therefore new sites saw a surge in conversions. Also, these news sites helped some travel sites by offering some discounts that helped counteract some traffic declines
Conclusion
Coronavirus is one of the worst forms of viruses ever to spread in this world. It has shaken the entire world to its core. People are horrified with its devastating outcomes and are asked to maintain social distancing. But hopefully, it will go away soon having minimal impact on our lives. But for the time being the best precautionary measures we can take is to avoid going out to crowded places or attending gatherings, sports events or any sort of function with more than 10 people. 
Go online and grab as much information as you can about the coronavirus. You should read this article by the Washington Post as it gives out great information about the pandemic and how it will affect our lives and what we can do to minimize the impacts. 
Author Bio: Cameron is a professional content marketer with years of experience in business proposal writing services for Content Scribblers. As a core member of the team, he has managed to help many businesses and influences by producing quality content for them. Other than writing, he is also a tech wiz and a gamer who likes to spend his long nights taking down his arch-rivals in the digital universe.