If you have been a part of a marathon or if you have seen professional summer sports on TV, you have probably noticed that many of the athletes are wearing bright coloured tape in sections of their bodies. Some people believe that it's for branding to help them stand out from the rest of the athletes, but it is actually kinesiology tape that helps support muscles and improve performance. In this article, we will go through what kinesiology tape actually is and how it helps people manage their pain while training or playing their sport.
What is Kinesiology Tape?
As the name suggests, kinesiology tape is tape that is placed on your body in specific areas to help manage your pain. The tape can be easily applied by yourself, but if it's your first time using this sort of product, then it is recommended that you visit your physical therapist to ensure you understand how to apply the tape properly for optimal results. When the kinesiology tape is applied, the elasticity of the tape matches the elasticity of your skin, which essentially gives your brain a sensory input, allowing you to gain your original range of motion to that part of your body.
Kinesiology tape was originally developed in Japan in the 1970s by the chiropractic doctor, Kenzo Kase. His goal was to find an alternative to stiff medical tape that was used for years prior. He set out to create something that mimicked the natural elasticity of human skin. Even though many athletes and trainers have used it since the 1970s, kinesiology tape didn't make its way into the mainstream until the 2008 Olympics.
The product on the surface appears pretty basic, but there is actually a lot of technology that goes into creating high-quality and effective kinesiology tape. For example, high end kinesiology tape manufacturers will use 100% cotton with a 100% poly-acrylic adhesive that makes the tape waterproof and breathable. They will also avoid the use of latex to ensure everybody can use their product safely. 
High-quality kinesiology tape is designed to be worn during strenuous exercise or when performing a sport with a lot of movement. The kinesiology tape will stretch up to 40% of its length while still remaining elastic; this is how the tape allows your body to be supported without affecting your natural movements. It is also designed to stay in place when it gets wet, either from sweat, rain or while the athlete is in the shower. 
How Kinesiology Tape Works
When kinesiology tape is applied, it will lift your skin from the tissues that are underneath the skin. It's important to know how to properly apply the tape to ensure you are lifting the skin correctly so it directly targets the injured area. The tape will cause the nerve receptors in your skin and muscles to compress or decompress, which alters the pain signals that are sent to your brain. 
When searching for kinesiology tape, you will want to find one that has the best elasticity. This is because the tension that the tape provides makes a huge difference in how your pain is managed. For example, if somebody goes through a procedure for ACL reconstruction, their quadricep will be weak during the recovery process. If a physical therapist applies kinesiology tape at the max tension, then the muscle fibres will come together and cause a contraction, which is the process that helps strengthen a muscle. Kinesiology tape also works with tightness; for example, if you are experiencing tightness in your calf, you can use the tape with a little bit of tension to trick your brain that the muscle isn't in pain.
What Is Kinesiology Tape Used For?
Kinesiology tape can be used to treat a number of conditions, including pain management, decrease swelling, provide muscles with stability, and muscle inhibition, among many other conditions.
Runners are the most common athletes that will use kinesiology tape as they are susceptible to pain and injury issues that they need to work through without hindering their training routine. Here are a few common runner injuries and how kinesiology can manage the pain:
Knee Pain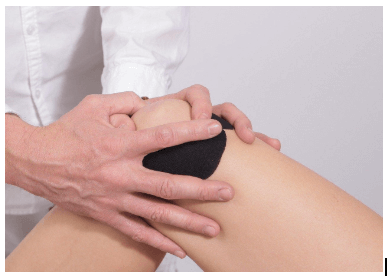 From amateurs to professionals, a runner has a high chance of experiencing knee pain during or after a training session. If you experience knee pain, it is most likely due to weak glutes or imbalance movements. To help relieve the pain, you will want to apply two pieces of kinesiology tape in a teardrop-shape on each side of your quad to the knee cap. Then you should apply another strip below the knee.
Pain In Your Achilles Tendon
Achilles Tendon pain can be the most deliberating pain to endure as a runner. To help you manage this type of pain and still be able to perform at your highest level, you will need to strategically place a piece of kinesiology tape to the bottom of your foot running up to the midsection of your calf, then apply another piece of tape over the back of your heel.
Shin Splints
Shin splints are caused when the muscles in your shins are overloaded, which ends up in your muscles, bone and tendon becoming inflamed. Starting from below the outside of your knee, apply a piece of kinesiology tape from there to the base of your big toe. After that, you can place additional strips over your pain points running up your shin.
What Type of Tape Should You Use?
There are many manufacturers and providers of kinesiology tape to choose from, so it comes down to personal preference. If this is your first time reading or learning about this product, you will want to find a company that provides products that are easy to use, 100% waterproof, drug and latex-free, and can last for longer than one game or training session. 
As you progress in your sport, we recommend that you include kinesiology tape to your routine to ensure you can easily manage your pain and get you back to 100% health quicker. 
Author's Bio
Colin Hegarty is a content writer for BreezeMaxWeb that helps businesses showcase their brand through enticing copy. When he's not working, you can find him playing net in a local beer league or biking around the city.